On the road to climate-driven obsolescence?
The topic of sustainable property forms the backbone of today's real estate projects.
Property values could potentially be harmed by the recent phenomenon of climate change, which unfortunately shows no signs of stopping. Torrential rainfall and flooding have a detrimental effect on a building's plumbing and electrical installations. Droughts have a considerable impact on a building's foundations. 
As part of its mission to guarantee asset integrity and performance as well as personal safety, SOCOTEC plays an instrumental role in real estate projects through the building's lifecycle. As such, it was our responsibility to address the key issue of climate change. We have combined our expertise within a new sustainable property subsidiary, called SOCOTEC Immobilier Durable, with the aim of building trust and safety in a sustainable world.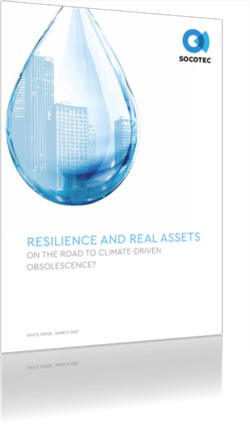 .PDF
Download our White Paper : Resilience and Real Assets
White paper contributors:
Minh-Trong NGUYEN : Chief Executive Officer SOCOTEC Immobilier Durable
Christophe DELCAMP : Assistant Director of Liability & Damage Insurance at FFA
Thibault LACONDE : President & Founder of CALENDAR
Jean-Marc BOUILLON : President of TAKAHE CONSEIL
Jean JOUZEL : Climatologist
Chloé VOISIN-BORMUTH : Director of Studies & Research at the FABRIQUE DE LA CITÉ
Pascal LOISEL : Director of Development Support, Asset Management & BIM at SOCOTEC
Hélène GENIN : Executive Officer of the BBCA ASSOCIATION
Roxana ISAIU : Real Estate Director at GRESB
Valérie DE ROBILLARD : Chief CSR Officer at NEXITY
Yvon MARTINET : Partner at DS AVOCATS