Groundbreaking ceremony for underground line U5 in Hamburg
On 30 September 2022, the Hamburger Hochbahn AG and its subsidiary, Hochbahn U5 Projekt, marked the official start of the construction of underground Line 5 with a symbolic groundbreaking eremony.
Key information
Project name: General planning for the new construction of the underground line U5 for the construction section City Nord to Bramfeld
Date: since 2016
Client: Hamburger Hochbahn AG
Location: Hamburg, Germany
Size: Tunnel section of approx. 6 km from a total of 24 km, with 4 new underground stops from a total of 23 new stops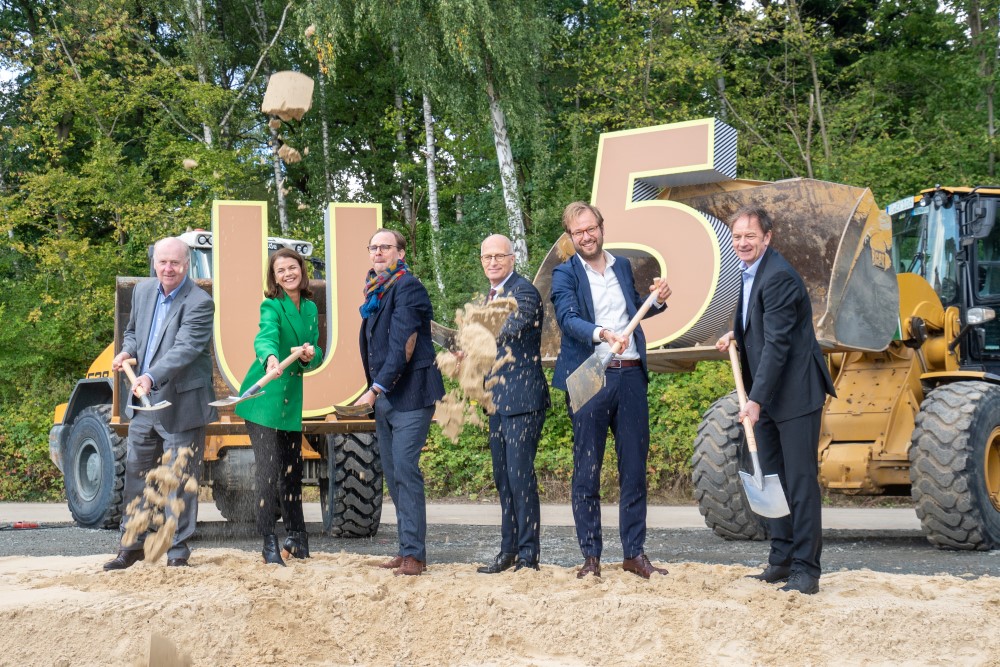 Photo credit
l.t.r.: Jens-Günter Lang, Member Executive Board of HOCHBAHN AG, Dr. Petra Welge, Managing Director HOCHBAHN U5 Projekt GmbH; Henrik Falk, Member Executive Board of HOCHBAHN AG; Dr. Peter Tschentscher, First Mayor Hamburg; Anjes Tjarks, Senator for Transport and Mobility Change Hamburg; Klaus Uphoff, Managing Director HOCHBAHN U5 Projekt GmbH
Construction of underground line U5 in Hamburg
An highly advanced underground line, running automatically with green electricity is being built. With a route length of 24 kilometres and 23 new stops, it will connect districts in the east and west of Hamburg with the city centre. On the occasion of this event we congratulate all teams involved on this project. A joyful and proud look falls on the groundbreaking ceremony. Since 2016, our experts in tunnel construction have been encharged with the planning of the first realisation section of the project. Over the years, a long and successful cooperation has developed with Hamburger Hochbahn AG and the project partners. With the groundbreaking ceremony, another important milestone will be reached together.
The aim of this project is to build what is currently Germany's most climate-friendly underground railway. Planned as a completely emission-free means of transport with 100 per cent green electricity, Line 5 will be for the expected 270,000 passengers an environmentally friendly alternative to private cars.